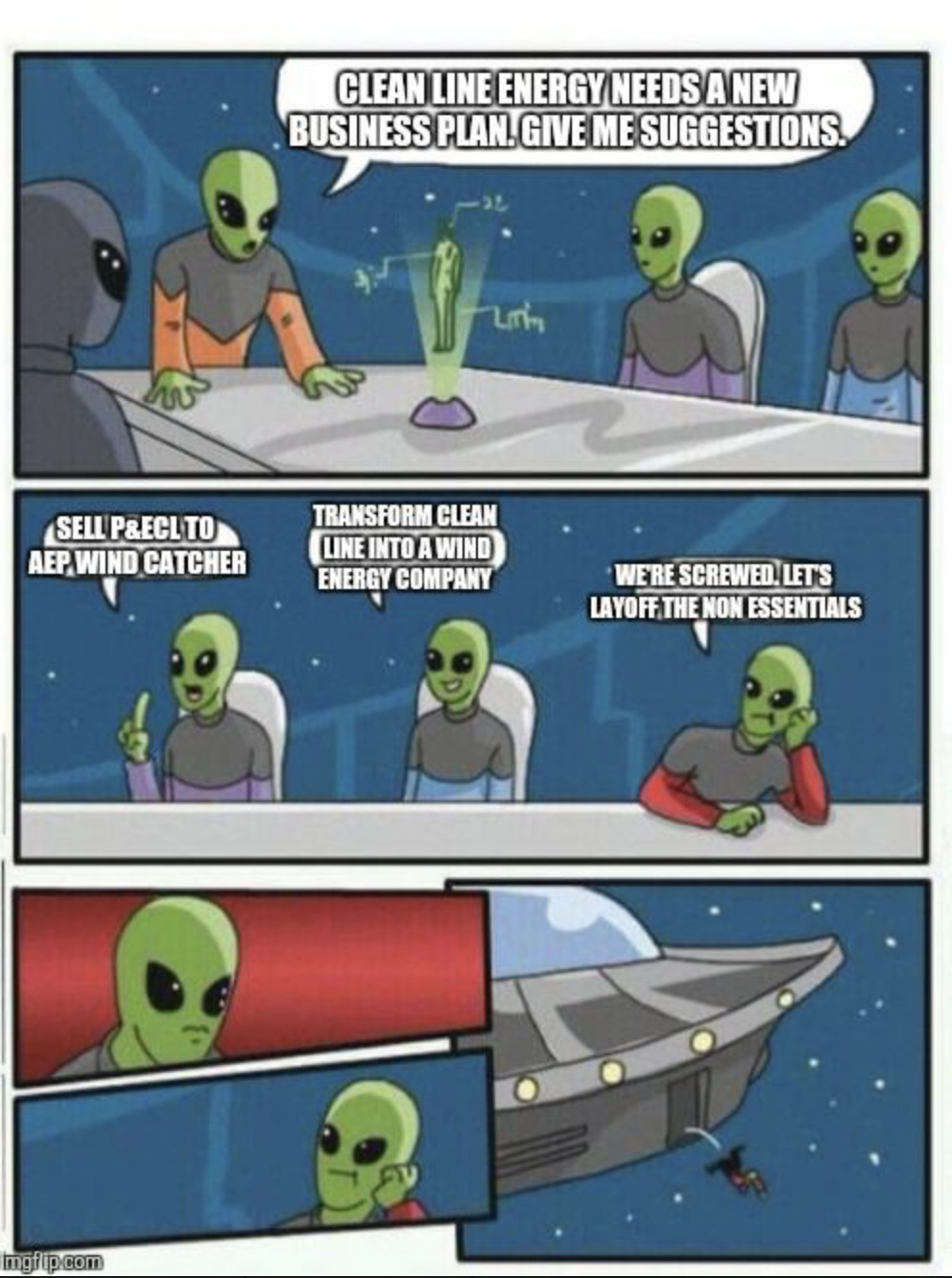 Things seem to be winding down at Clean Line Energy Partners over the last month or so. The rats continue to abandon the mothership. Take a look at Clean Line's
"Leadership"
page and notice that a couple former executives are now missing. It looks to me like maybe the transmission folks are leaving, with only the wind energy people still on investor Bluescape's leash. I wonder if Bluescape is trying to salvage something out of its investment in Clean Line by jettisoning the loser transmission projects and focusing on more wind farms like Mesa Canyons?
The Rock Island Clean Line is dead. It can't use eminent domain in Iowa or Illinois.
The Grain Belt Express is on life support. Despite Clean Line's desperate attempt to get the Missouri Supreme Court to hear its case, there has been no response and the case has been scheduled to be heard in the Appeals Court next year. And, on the off chance that GBE succeeds on appeal, the Illinois courts must kill it because the Illinois Supreme Court already ruled in the RICL case that Clean Line isn't a public utility. Checkmate.
The Plains & Eastern Clean Line is a zombie. Despite the "participation" of the U.S. Department of Energy in that project, customers have stubbornly failed to materialize. It's been nearly two years since the DOE issued its "Record of Decision" that Clean Line thinks gives its project the okay to build. And still no customers in sight.
According to E&E News
:
While not yet ready to begin construction, Hurtado said the next big milestone isn't far off, and Clean Line has turned its focus to finding key customers.

"We've been at it for a while, and we're very close to the finish line," he said.

Clean Line has yet to announce any firm agreements with Southeast utilities for transmission. Meanwhile, the clock is ticking.

"We think that there's a time-sensitive opportunity," Hurtado said. "I'm not comfortable waiting too much longer. The sooner we can get this done, the better. There are always risks, and you want to manage that really prudently. We're already in pre-construction. The sooner we get into full-fledged construction, the better."

"Obviously, the trick is to make sure that you have capacity at the right price to the people that are actually winning the contracts in the Southeast," Hurtado said. "There's direct commercial discussions that are going on that are confidential. There are RFPs [requests for proposals], and that's still moving forward. It's part of our overall commercial discussions that we've got that are sort of focused, but they're all sort of in the works."

One potential customer, the Tennessee Valley Authority, so far hasn't shown an interest in taking transmission service from the Plains and Eastern.

TVA signed a memorandum of understanding with Clean Line in 2011, but the utility currently has no need for more energy on its system as its long-range plans show no demand growth for the next decade, said spokesman Scott Brooks.

And any older power plants being shut down by TVA are generally being replaced with natural-gas-fired generation, Brooks said.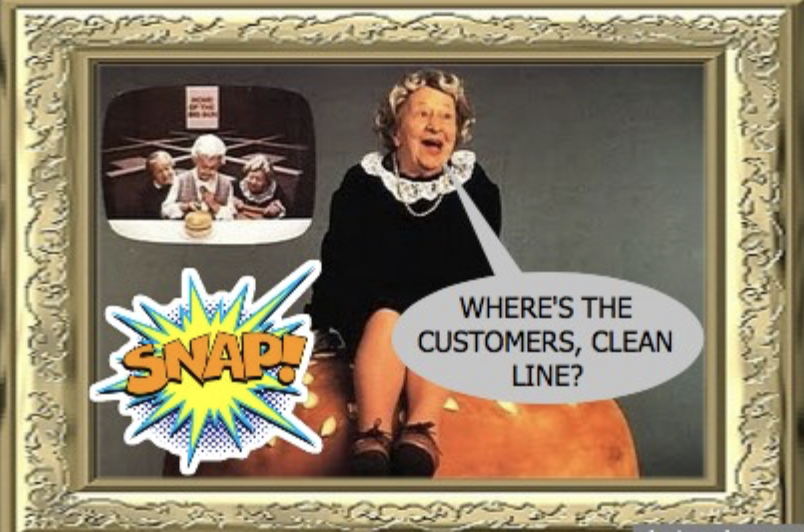 But wait! A real utility has proposed a new transmission project across Oklahoma.
American Electric Power wants to buy a ginormous wind farm and build a 765kV alternating current transmission line across the state and distribute the energy to its customers.
And AEP wants ratepayers in four states where it serves customers to pay for its project. That's right, AEP wants state utility commissions in Oklahoma and other states AEP serves to allocate the cost of their project to ratepayers. AEP is not building a merchant transmission project, where the utility finances the project construction and then negotiates rates with voluntary customers. AEP will only build its project if its cost will be covered by ratepayers, along with a hefty return on equity to AEP.
A look at the
Oklahoma Commerce Commission's docket
(Case No. 201700267) for AEP's filing doesn't look promising. It seems most of the parties are against it, either because they don't want to shoulder the cost, or because there was no competition in selecting the wind generator. And AEP is trying to rush this through with only a cursory examination because it must latch onto the government teat known as the Production Tax Credit before it expires in order to bring "savings" to ratepayers. If this project only provides "savings" from tax subsidies, then it's just not worth doing. But AEP stands to make a bundle on its investment in a new wind farm and transmission line. Whoever owns the assets makes the profits.
And wouldn't you know it, Clean Line intervened in AEP's project docket
to support this "laudable" project
. But only if AEP uses Plains & Eastern instead of building its own transmission line. Or maybe AEP can partner with Clean Line? Or invest in Clean Line? Or AEP can completely redesign the project and change its route? Or perhaps buy the Plains & Eastern Clean Line? Or perhaps scrape Clean Line off the underside of a park bench with a putty knife, chew it up, and spit it out? It seems that Mario Hurtado is pretty much open to anything that would monetize his fruitless efforts to build the Plains & Eastern Clean Line for the past eight years. Sounds like Plains & Eastern is begging AEP to open an escape hatch so they can get this cash cow off the books.
Plains and Eastern is open to PSO or other utilities customers owning all or a portion of the transmission line, commensurate with their transmission needs. In addition, Plains and Eastern is open to PSO or other utilities managing part or all of the Plains & Eastern Project's construction.

If there is a demand for Oklahoma Panhandle wind in eastern Oklahoma, the Project's first phase could be built solely in Oklahoma. Subsequent phases could be built at a later date if market demands warranted such action.

While Plains and Eastern's efforts have been focused on HVDC transmission, other technical
solutions could be constructed in the Project's right-of-way, such as 345kV AC or 765kV AC. Plains and Eastern is open to modifying the
Project to a different technology or voltage level if it offers the best value to customers.

The Project begins near Wind Catcher's generation position in the Panhandle and the route runs within 50 miles of PSO's Tulsa North substation, the proposed interconnection point for the Wind Catcher line. In eastern Oklahoma, there are also other potential interconnection points in PSO's service territory that are even closer to the Plains & Eastern Project's route than the Tulsa North substation and could be utilized to serve PSO load and other loads.

Clean Line wastes a lot of ink touting its "approved route" and purchased easements for its project as a sure thing that will save AEP time and money. Except Plains & Eastern's route is nowhere near AEP's proposed route and does not connect with AEP's substations. Somehow, finding a new route to connect P&E's proposed route with AEP's proposed route gets glossed over. Why would AEP want to take some circuitous route across the state and build many more miles of transmission than it actually needs? But like a polished used car salesman, Clean Line tries to sell its route and "relationships" with landowners as a sure thing. Clean Line seems to take the position that is is somehow superior to AEP in the transmission building game and can do it better.

Furthermore, the Plains and Eastern team has received many questions from landowners and other stakeholders in Oklahoma about the Wind Catcher project. The team has been asked if Plains and Eastern can be involved or assist in the Wind Catcher project given that Plains and Eastern has a construction-ready, long-haul transmission project that runs from the Oklahoma Panhandle to the east and has acquired easements on more than 750 parcels in Oklahoma.
Said no one ever? Who are these people? Do they have names? Why in the world would anyone want a company that has never built anything or realized a dime of revenue to "assist" a public utility that has been around for more than 100 years?

After being approached by representatives of PSO, Oklahoma landowners have asked the Plains and Eastern team if they should work with PSO even though they have already signed an easement with Plains and Eastern.
And what was the "team's" response, Mario, do tell? Did you say, "Transmission lines are like Lays Potato Chips, you can never have just one?" Or did you tell the landowners to slam the door in the face of any PSO (AEP) land agent? Or maybe you told them to try to sell your project to AEP so you'd have enough cash to make the next payment on your easement option contracts?

All of a sudden, Clean Line has changed the focus of its Plains & Eastern project. It's no longer about bringing wind power to "states farther east." It's about bringing wind power to eastern Oklahoma now. Ahhh... desperation, the mother of invention...

The power markets have evolved substantially since Plains and Eastern received its order from this Commission in the past eight years and eastern Oklahoma is now a strong delivery point for the Plains & Eastern Project. The Project could be utilized to accommodate high-voltage either direct current ("HVDC") and alternating current ("AC") transmission solutions to accomplish this interconnection in eastern Oklahoma and Plains and Eastern is willing to engage to consider either option. Mr. Hurtado stated that he would explain that Plains and Eastern is open to building a first
phase of the Project that is located solely in Oklahoma.

And then Mario comes out with this gem.

SPP has no plans to build new transmission
lines in the next decade, making independent transmission necessary to enable large amounts of new wind farms to be built in the Oklahoma Panhandle.

SPP plans and orders built all transmission necessary for reliability and economic reasons within its region. Oklahoma is in the SPP region. If SPP doesn't order it built, it's not "necessary."

And then Clean Line says its project is fully approved.

Plains and Eastern has also secured all key regulatory approvals necessary for construction on that route.

Except the "approval" Clean Line has is for a merchant project that must first secure enough customers to finance its construction. Clean Line does not have "approval" to build a cost allocated line paid for by ratepayers in Oklahoma and other states. It's like using an apple when your recipe calls for an orange. As well, Clean Line's "approval" by the U.S. DOE is currently being challenged in federal court and could very likely simply evaporate when the court rules. And until Clean Line has enough customers to finance its project, it cannot be built. How long is AEP supposed to wait for Clean Line to find enough customers to build the line?

Clean Line says that DOE's routing of its project "approved" a preferred route.

The DOE independently analyzed the proposed route and several alternative routes in its
EIS and ultimately approved a preferred route through its Record of Decision.

But DOE does not have statutory authority to site a transmission route, therefore it cannot "approve" a preferred route. Section 1222 of the Energy Policy Act reserves siting for the impacted states. This point is also part of the ongoing federal lawsuit.

Clean Line says landowners in Oklahoma love them.

Plains and Eastern's careful and open approach to landowner interaction and easement acquisition established the company as a solid partner and good neighbor in Oklahoma

Gosh, that's funny. The landowners in Oklahoma that I've talked to despise Clean Line and have vowed to NEVER sign a voluntary easement. Perhaps all Clean Line's Oklahoma friends could be characterized as "low hanging fruit," the easy sells. Anybody with a checkbook could acquire these easement rights. It's the difficult ones (according to Mario's testimony more than 40%) that can delay a project for years. I'm thinking that AEP has never built a transmission project that required eminent domain takings for more than 40% of its route.

Many landowner conversations are on-going, and Plains and Eastern is highly confident that all right-of-way necessary to start construction could be completed in time to allow for construction to start in 2018 and an on-line date in 2020.

Also hard to believe, since Clean Line is depending on the federal government to effect all eminent domain takings for its route, and the U.S. DOJ's attorney absolutely would not commit to the takings during recent oral arguments before a federal judge in Arkansas.
Does Clean Line think AEP has been in business for over 100 years because it's gullible and easily swayed by a fast-talking salesman? AEP may be a bunch of jerks, but they're not stupid. AEP knows a
Fifty Foot Car
when it sees one.
Or is this just the first act in a poorly presented regulatory Kabuki theater where AEP buys up the Plains & Eastern project and systematically cannibalizes it to extract only those land easements that work with its preferred route? If so, Plains & Eastern is dead. If AEP wanted to build merchant transmission, it would have proposed its own project as a merchant and wouldn't have any opposition at the Oklahoma Corporation Commission. Instead, AEP wants to build a captive ratepayer funded transmission project completely within the state of Oklahoma. Clean Line's expensive dance with the DOE is completely useless, in that case. But what about Clean Line's agreement to pay the U.S. DOE 2% of its quarterly profits? Would AEP have to pay DOE 2% of its quarterly profits if it bought Plains & Eastern and used DOE's "approved" route? I'm sure that will keep a lot of lawyers busy for a long, long time.
AEP says it will respond to Clean Line's filing by the December 22 deadline. And, hey, Merry Christmas, Clean Line!