The PATH Project has been terminated!

STOPPATHWV HELD MANY FUNDRAISERS THAT CONTRIBUTED TO OUR SUCCESS!

Help us help Jefferson County by participating in our fundraisers and get a little something for yourself too! Everyone is welcome at our fund raising events -- we'd love to meet you!

All you can eat buffet benefits StopPATH WV, Inc.

Friday, February 25, 5:00 - 7:30 p.m.
- Paul's Restaurant at Oakland Church, 70 Oakland Terrace, Charles Town, WV (see map
here
) is hosting a special dinner buffet to benefit StopPATH WV, Inc. Come enjoy a great meal with us and support our continuing efforts to protect Jefferson County from the PATH project. Buy tickets in advance from members of StopPATH WV, or pay at the door. Simply mention that you heard about it from StopPATH when you pay for your meal. Prices are $16 for adults; $7 for children 4 - 9; children under 4 are free. Cash/checks gladly accepted at the door. If you need to pay by credit card, please
contact us
to make arrangements in advance. This is the third time we've teamed up with Paul's to host a dinner -- the first two were such a success, we're planning to make it a monthly event. This is the
best
fried chicken you've ever eaten! And the company isn't so bad either. Come and join the party!
Menu
Broaster Chicken
Glazed Ham
Prime Rib
Potatoes
Stuffing
Gravy
Veggies
Soup and salad
Dessert
Coffee/Iced Tea
Sun Recumbent Trike for Sale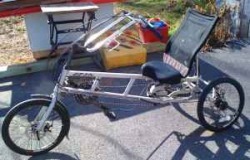 Excellent condition. Aluminum Frame. Text 304-268-7880 between 5 am and 5 pm.
Cash only. No Trades. Local Pickup only. No shipping. $1,000/make offer.
ALL PROCEEDS TO BENEFIT STOPPATHWV

---
Hand-made knitted hats!

StopPATHWV intervenor Shirley Smith has been knitting and donating these beautiful hats to the cause. Now you can do your part and purchase one to keep your noggin warm this winter (also comes in handy fending off icy-cold stares from PATH project employees at public meetings and hearings year-round)! Hats are $15 each and can be custom-made to order in your choice of style and color. We will also ship your purchase if you prefer, but please add $5 for postage and handling. To order, see us at one of our events or
contact us online
.
StopPATH WV T-Shirts - Get your gear!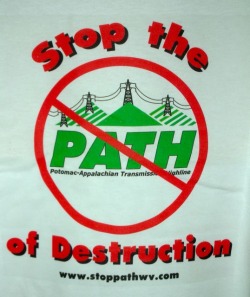 Get your own "Stop the PATH of Destruction" t-shirt, the official uniform of hearings, meetings, protests and events! These heavy-weight, white, cotton-blend t-shirts come in adult sizes small - XXL and hold their size and shape wash after wash. Price is $12 each for local pick-up/delivery. We will ship, but please add $5.00 for postage and handling.
We also have a limited quantity of "Oh No! We Won't Glow!" glow-in-the-dark StopPATH WV bracelets and hand fans available for purchase.
Contact us
to purchase any of these items.

Note:
For PATH project employees buying "souvenirs" for their trophy case (similar to Native Americans supposedly collecting scalps in the old wild west) please triple all item costs. This inflation of costs that come out of your pockets is necessary in much the same way that PATH carelessly tripling expenses that they shove into the ratebase which comes out of OUR pockets is necessary. Please also add appropriate 14.3% return for the life of these t-shirts... about 70 years should do it. These items are not free or cheap for you fellas, unless presenting you with one as a gift in public suits our purposes and makes us laugh :-)
---