...errr, customer. This morning, Clean Line Energy Partners had an imaginary customer.

Utility Energy has agreed to purchase 500MW of power from Plains & Eastern via an intermediate converter station in Arkansas. It is not immediately clear where the balance of the line's capacity will be sold.

So reported "Recharge News," which bills itself as "
the multi-platform news service for senior professionals in solar, wind and related sectors. It balances in-depth coverage of wind and solar with relevant news from the wider global renewables industry.
"
Balance? Recharge News thought

this article

was "balanced?" It only tells one side of the story... Skelly's side. Apparently the reporter did absolutely no fact checking.
"Utility Energy" doesn't exist. There's no company named "Utility Energy," therefore it has not agreed to purchase 500 MW of power from Plains & Eastern. Or maybe the reporter MEANT to report that "Utility Entergy has agreed to purchase...". But that would also be untrue. Neither Entergy nor Clean Line's imaginary friend, Utility Energy, have agreed to purchase so much as a glow stick from Plains & Eastern.
Coulda, woulda, shoulda.
It's pretty doubtful that Clean Line will "begin construction on Plains & Eastern next year." It's pretty hard to construct a transmission line on land you don't own. What Recharge News fails to report is that landowners are refusing all Clean Line's advances.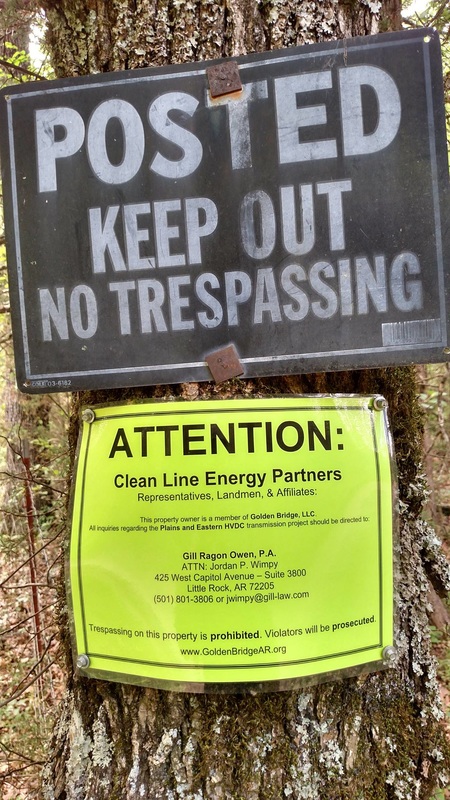 Get yourself one of these nifty signs from Golden Bridge, LLC!

Are you directly or indirectly affected by Clean Line Energy Partners' "Plains and Eastern" HVDC transmission line project? Don't want to talk to them? Members of Golden Bridge don't have to.

Our Mission:
The LLC will educate members and other interested parties on our issues regarding the Plains & Eastern project, condemnation (eminent domain), and landowners' rights, especially as they affect property values and agricultural/recreational operations.

The LLC will take those steps necessary to help protect property owner interests, including but not limited to addressing environmental, economic and health impacts, and helping to protect and improve landowners' property rights, including the mitigation of potential liabilities.

Our Objectives:
To evaluate ALL options available to address the potential impacts from the Project, including, but not limited to:
- Legal action in defense of landowner rights
- Negotiation of the right-of-way easement terms that benefit landowners now and in the future

We are still accepting memberships. To find out more information:

Visit: www.GoldenBridgeAR.org

Contact Us Directly: GoldenBridgeAR@gmail.com or (479) 214-0799

Please share this post to help us inform our friends and neighbors along the route.
And guess what? Clean Line does NOT have eminent domain authority, nor authority to enter private property along the route. No "studies." No "surveys." No land agent visits or calls. Landowners can simply tell Clean Line and its contractors to go away. And they are. They certainly are. It's not looking like Clean Line is going to have any land rights for its project by next year. Because the only way Clean Line can get land rights from resistant owners is to ask the U.S. Department of Energy to use its authority to condemn and take their land. And the U.S. DOE agreement stipulates that Clean Line must have firm, contracted customers, not just imaginary friends, before DOE will even consider getting involved. And even if they do, DOE must start all over again attempting to negotiate with the landowner. Think all this can be accomplished by next year? Not. It's going to take YEARS and YEARS, if it ever happens at all.

And there Skelly stands, waving his hands around and making up imaginary customers, like "Utility Energy." He doesn't have any real customers. And he won't have any real customers, because all the good imaginary customers will only "...commit once they see the project meeting critical milestones towards the start of construction." But Clean Line won't be meeting any milestones until it has land rights. And it can't get land rights until it has customers. Chicken, egg. Rock:Clean Line:Hard Place.

Skelly needs to quit making crap up. And the trade press needs to stop reporting made up crap.

Imaginary friends are only cute when you're five.