It's one or the other. Let's contemplate this...
When I asked Todd Burns what his company's return on equity was, he appeared confused. He didn't know what a return on equity was. It was only after I explained what it was that he finally remembered that Transource's return on equity for this project is "10 to 11 percent" something like that. FACT:
Transource has applied to the Federal Energy Regulatory Commission for a 10.9% ROE.
The matter is currently in settlement discussions, with an administrative hearing possible if a settlement is not reached.
I met a handful of the Transource guys and gals the other night. Most attempted to be personable and avoid direct lies while trying to answer my increasingly hard questions. And then I worked my way up to Todd Burns.
He also had trouble admitting that
Transource has received an incentive from the Federal Energy Regulatory Commission that allows the company to file to recover all its sunk costs from ratepayers in the event that PJM decides to abandon this project
.
So, do the lawyers and bean counters at "Transource" (really utility giant AEP, because Transource has no employees of its own) not share basic information, such as return on equity and who pays if the project is abandoned, with Todd Burns? Todd needs to hustle home to Columbus with great alacrity and find out about all this stuff! Otherwise, he looks rather stupid to a public who does know about it. Or maybe he looks like a liar who was pretending to be uninformed so he could avoid the question? As if that could happen.
Todd Burns also seemed to be confused about a lot of other facts during
an interview with the Waynesboro Herald Record.
Despite that, the reporter managed to write a great, balanced article. The Herald Record has the best coverage of this issue that I've seen (other media take note!) What was it that Burns said?
Burns said some of the negative feedback is based on misinformation about the project. "There's a lot of confusion and a lot of things being said that aren't accurate," Burns said.

I blame you, Todd. I think most of the "misinformation" is coming from you. Please, allow me to demonstrate...

"Burying lines causes problems," Burns said. "If a line fails and it's underground, it can't be located and fixed immediately. That's what happened recently on the Outer Banks.
"The environmental disturbance is greater to trench and bury a line than to run it overhead. And it's ten-times more costly to do it underground."


It is NOT "ten times more costly" to underground lines. In fact, it's only twice as costly, roughly. AEP has been claiming undergrounding is "ten times more costly" for years, along with a whole bunch of other excuses for taking the cheaper and easier option of aerial lines. And the technology does exist to determine where a fault is on an underground line. And you probably can mark an underground line to prevent all by the biggest idiots from pile driving onto it. I'm not buying the environmental disturbance thing, either. I've seen
what transmission companies do to rights of way when building overhead lines
. So, let's update these excuses, because they sort of sound like a lie to me.
As well, who cares how much it costs to underground lines? If the landowners require undergrounding, then that is the cost of fixing this "bottleneck." Are you saying that unless you can build this cheaply that all the savings for the DC-Baltimore elite will evaporate? A more expensive project doesn't clear a cost-benefit analysis? Then, obviously, this project isn't worth doing. It is not incumbent upon Pennsylvania and Maryland landowners to sacrifice by allowing the cheapest project you can build in order to move cheaper power to the city. If you want them to sacrifice for the cities, then the landowners need to have input into how the final project looks on their property. And by having input, I mean actually making the determination -- I don't mean having an opportunity to toss comments down a black hole at Transource where they are completely ignored. The only way a landowner can have effective input is when eminent domain is not an option. Anything else is coercion, not negotiation. Which brings us to...
"I've heard people are concerned about land use and whether they will be able to use their properties," Burns said. "People will still be able to work under the power lines, although obviously there would be a limit on building underneath them. The land is still useable."
Burns said property owners would be compensated for the easements through their land. "We're going to be acquiring easements from the landowners and compensate them for it. They will retain the rights to certain activities," Burns said.
He said property-owners shouldn't be worried about the threat of eminent domain. "Our approach is we negotiate fair market value for anything that has to be acquired," he explained. "We use eminent domain less than three percent of the time."


If you want to see how landowners can still work under high voltage transmission lines, carefully watch
the AEP videos on this page
. Nuisance shocks, EMF, and big brother monitoring your activities on your own land? What's not to like? But wait, there's more... like aerial spraying of the right of way with chemicals to keep growth down, or power line workers coming on your property for maintenance or repairs and leaving gates open, driving large equipment through your fields, and disturbing the soil. The truth is that you will have picked up a parasitic tenant on your land... in perpetuity.
"Compensation" for property taken may be less than you'd expect. After all it is a value created by an out of state company, that will never even lay eyes on your place, from market studies of similar land sales of property in your county. It is Transource's idea of the value of your property, not yours. As well, you may only be paid for the property in the right of way, when the right of way itself devalues the rest of the parcel. Payments for damages will be argued over in court for years... at your expense, if you don't accept what the company wants to give you.
I'm pretty sure Transource land agents will use the
threat
of eminent domain 100% of the time in order to coerce the landowner to sign on the dotted line. That isn't negotiation, that's coercion.
Burns said he is confident the Independence Energy Connection will save customers money not just in the greater metropolitan areas south of here, but locally. "The driver is to give customers in this area access to lower costs," he said. He said it is too early to estimate what the cost savings might be, or whether local, independent energy companies will pass the savings on to customers. "They may have other initiatives that will affect your bill," Burns said.

Perhaps Burns needs to talk to his underlings, who have readily admitted that the lion's share of the savings is for customers in the DC/Baltimore area. And PJM agrees with that. That's why 80.52% of the cost of this project will be paid for by DC, Baltimore and Northern Virginia Customers.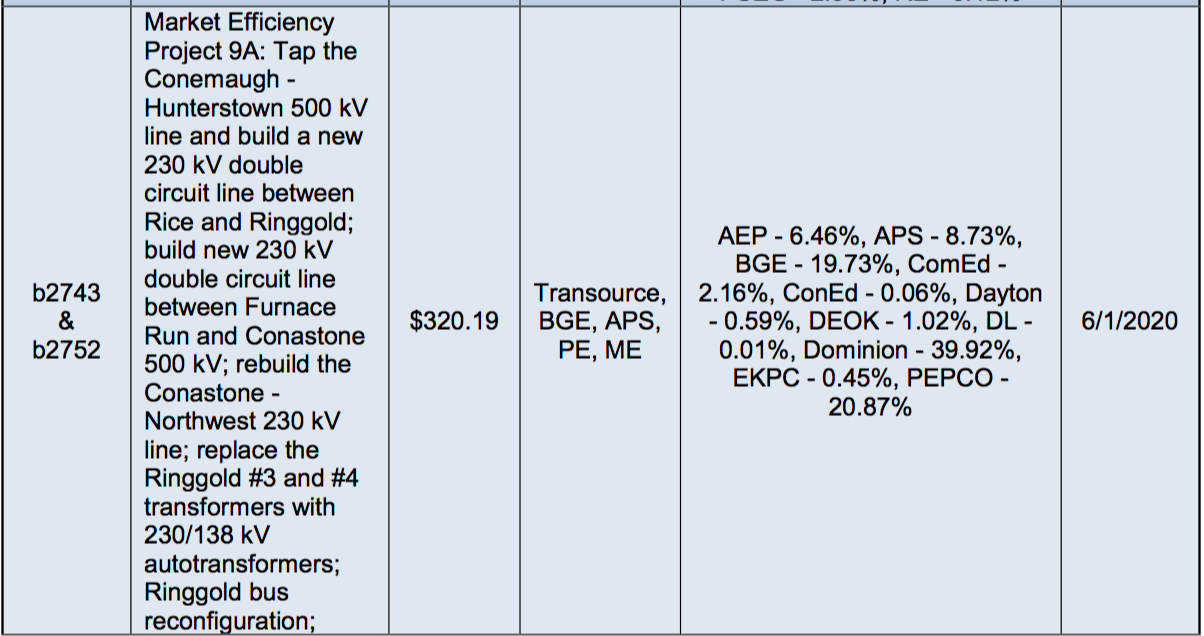 Those who receive the benefits (in this instance cheaper power) pay the costs. That's how PJM works. Any savings for the project area (benefits) are not commensurate with the cost to the community and the individual landowners. Their costs are much greater than any benefit they may receive.

And I hate to let Burns know, but one of his underlings actually confirmed that market efficiency projects perform a leveling of costs across the region. If power is cheaper in the cities, the cost of it must rise somewhere else. All that cheap power "bottlenecked" in PA and MD and unable to reach the cities? Those are the prices that are going to go up once the "bottleneck" is removed.

And then Burns admits he has no hard evidence of how (or even if) this project will lower local electric bills. Then he supposes that local electric companies may keep any savings that develop for themselves. Of course... always thinking ahead, that Todd, to explain now why bills will never go down after this project is built.

Todd is not telling the truth about project benefit. But he may not be the only one with a penchant for prevarication. Transource spokeswoman Abby Foster made up a whole bunch of satisfied and happy landowners out of thin air.

Despite the many negative comments exchanged from person to person around the packed community center, Transource officials said there was also positive feedback.
"We found in this area, people understand the greater need for infrastructure," said Abby Foster, community affairs representative for Transource Energy. "Everyone here benefits from something being on someone's property."
Foster said the positive comments she heard came from residents who see the financial benefits of easements on their properties as well as the benefits of costs savings on energy bills.
She said some residents don't like the exact location of the proposed line across their properties but are willing to have it shifted to a different location on their properties.
"There's a lot that has shifted because of public input," Foster said.

Why are there no quotes from these people? Why didn't the reporter talk to any of them? Is that because they don't exist? These must be the mysterious folks who have requested monopoles, because those people are just as elusive. What it seems more like is that Transource is making up a mythical landowner who is pleased because Transource is altering its plans to suit Mr. Mythical. A company that presented its public image as "take it or leave it" would be seen as unfavorable by the public. One that pretends it is bending to the will of the people may curry more favor. But when there are no happy people in reality, it's all an illusion. Nobody wants this transmission line on their property.

And as far as that "everyone here benefits from something being on someone's property" line, puh-leeze. I heard that from one of the Transource people at the open house. It was the tagline of the night. And it sucks. It doesn't work on the public, just so you know, Transource. Other companies have tried it before you. It is met with anger and confusion. It has no relevance for affected landowners. Just because we use eminent domain and rights of way to take property for public use does not mean that everyone should gladly sacrifice for the selfish needs of others. And that's what this is... rural sacrifice for urban benefit. This project isn't needed to keep the lights on. It's only "need," according to PJM, is to make power cheaper in the cities to the south. Those cities like to keep their pretty skylines lit up all night long. There's no reason at all to keep an office tower lit inside all night. Maybe if the cities quit wasting so much electricity, they wouldn't need to call older, more expensive plants to generate during peak load a few days out of the year. And then we wouldn't "need" gigantic transmission towers in Pennsylvania.

Let's wrap up with this...

"We'll look at a route that strikes the best balance," Burns said, mentioning recreational activities, historic value and land use concerns. "You rarely come up with one that's gonna satisfy all those things. Ultimately, it will be at the state level to decide where it goes."

It is up to the state to decide WHETHER it goes, not just where. Opposition to this project is huge and gathering mass every minute. Loud, forthright opposition kills transmission projects. Todd Burns is going to need to get himself educated quickly! Or else quit lying. He's not very good at it.