StopPATH WV's very own Electra will be performing live at our PATH Funeral Party on May 21! You've probably all seen
the video
, now meet the singer/songwriter! And, yes, she'll be wearing the famous light up dress and hat... don't miss it! Send in your RSVP today!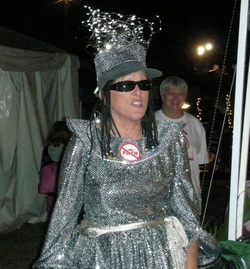 For all you blog fans, Bill Howley, author of
The Powerline
, will also be attending our party! If you love the blog but haven't met Bill in person, here's your chance!
Our friends at Mountain View Solar & Wind will also be at the party and will have staff to consult and information available about how you can get off the grid! It's cheaper and easier than you may think... be sure to check them out during the party and also thank them for helping to sponsor the party! Wait until you see their contribution... you'll be cheering for them before the party is over... guaranteed!
More to come...